This is my third visit to Hongkong in 5 years. Why do I like HK so much? Many people love this shopping paradise, but for me, shopping is never a priority. Maybe because I always go at the 'wrong' time of the year, and always miss the summer sale. My sole reason for returning – FOOD. This is my first trip as a 'food traveller'(can't help laughing at myself for this description), so pardon the picture quality. Ready to go?
By the time we checked in at the hotel, it was almost 3pm. Luckily we stuffed ourselves silly before and on the flight (okay, I exaggerate here). So we dropped off our bags, had a quick rest and down we went for out 'tunch' (lunch + tea). There is this
Cha Chan Teng
(loosely translated as Tea Restaurant – chinese style cafés which are dotted all over HK) across our hotel. It serves pretty good hot food and snacks, and I love the name – Relax For A While – just what we need.
The restaurant was so cold that we needed some hot food. Here's a steaming hot bowl of Seafood Congee, with huge succulent prawns
Char Siew Cheong Fun
(rice rolls with roasted pork). The best cheong fun are in HK, so soft and silky smooth, unlike the local hard and dry versions. The interesting thing is, they wrap lettuce in it too, so there is rice roll, meat and vegetable in each mouthful.
Next up is also cheong fun, but a different version. This one encased You Tiao (deep fried dough stick) in it, and served with sweet sauce and sesame paste, a change from the usual savoury black sauce.
The next two photos show our breakfast on our last day, from the same café. Such cute arrangement of the breakfast set.
My simple sandwich of egg and luncheon meat.
Finally we're down to some main courses. We were just walking around aimlessly, when 'nature called'. Since It was close to dinnertime, we decided to find a place to eat. In a nearby mall we found a restaurant named Hang Heung's Kitchen. Hang Heung is famous for their Wife's Biscuits(flaky pastries encasing a sweet winter melon filling), so we have confidence in this restaurant too. Judging from the steady stream of customers, it should be good, and it did not disappoint.
Sweeet and Sour Prawns – a lovely combination of tangy sauce with crunchy prawns. Once again, their huge prawns served put the puny ones we get here to shame.
Of course, a balanced meal must have some greens right? This dish of stir-fried French beans is chockful of fresh scallops and tender chicken, and full of 'wok hei', which is so important in Cantonese cooking.
Where are the meats, are you asking? Right here: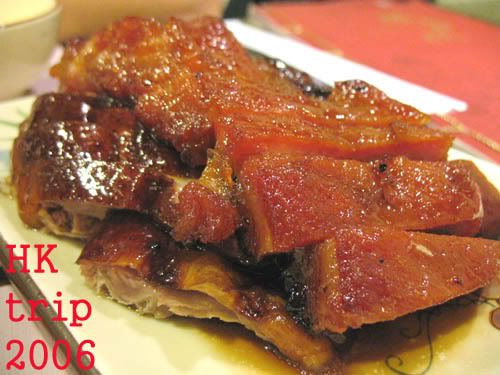 How can I leave HK without eating the
Siu Ngor
– Roasted Goose. Check out that juicy piece with glistening crispy skin.
Since we ordered a 'twin combo' of roast meats, the other meat which hubby would definitely choose would be the Char Siew. It's his criteria of determining how good a roast meat stall/shop is. With a balance of lean meat and fats, and roasted to perfection, this char siew did not fail.
Alright, are you full? *burp* I'm going to stop here, for you to digest these mains first. Will be back with more :p